March 13 was the day everything changed at Seven.
That day we began requiring everyone that didn't build frames to work remotely. We started splitting shifts to keep everyone on extreme social distancing. The factory went from being a hectic space where we'd literally bump into each other to a quite cavernous workshop.
Some of us at Seven have been in the bike industry for more than 40 years. We've never seen anything like what's happening right now.
We've been inspired by stories of healthcare workers and regular people putting themselves at risk to help each other.
The Seven crew has talked about how we can help, too. We've been donating significant time and resources within our community. We're trying to find ways to help build ventilators. We're working on fundraising projects with some of our retailers to help in their local communities.
Our role in the world is to build awesome bikes. We're so fortunate that we can do this and, at the same time, make a difference for our partner retailers, riders, and our Seven crew. Doing those things requires us to build bikes every day. Such a burden!
It may seem trivial right now, but we want to help keep people riding. As always, riding provides us some solutions. It is one of the best self-care things you can do. It's excellent for you, mentally and physically. It's also smart to be outside during the pandemic. We'll take any good things right now, no matter how small.
Peace and health to you, your family, friends, and community. Ride if you're able.
Rob Vandermark, Founder
Being Safe at Work
Every day we add more safety protocols so that Seven's production crew is safe and employed.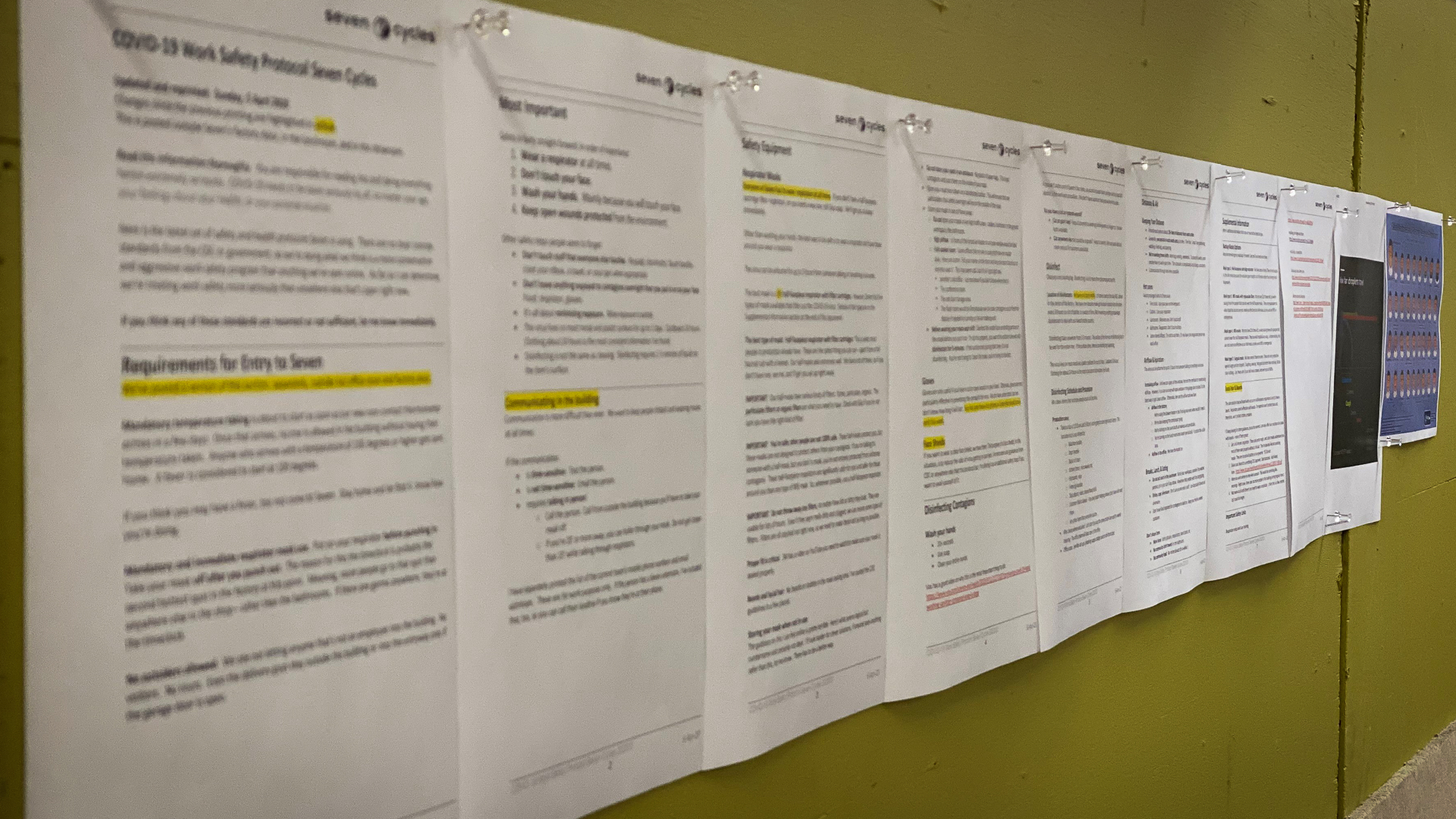 Here are a few of Seven's most important standards:
Everyone that can work remotely is. That's nearly half our crew.
Mandatory respirators: Seven's standard work respirators are mandatory at all times. These are safer than the more popular N95 masks. Seven's respirators are replaceable cartridge half-facepiece designs. By using these, we also avoid consuming the critical N95 masks that healthcare workers need.
We're working three shifts throughout seven days a week.
One person in each production area – machining, welding, final machining, and painting – at a time. In our 16,000 sq ft space, that's a lot of room.
Some are chopping beards and facial hair. It's more difficult than it sounds.
We're maximizing airflow through keeping windows open even when it's too cold outside. Keeping our paint booth's air makeup unit going to pull a massive amount of air through the shop. And a few other tricks to keep air moving.
Our lunchroom is shut down. No congregating anywhere.
Mandatory temperature checks each time someone enters the building. No visitors. No deliveries inside the factory.
We gotta stay healthy so we can be running at 110% again soon!
The Seven Factory Crew
In many ways, framebuilding has always been a solitary craft. It tends to require singular focus, attention to detail, and caring more about craft than conversation.
At the same time, framebuilding at Seven has always been a team effort. We problem-solve together. We cover for each other. We cross-train in pairs. All of the work that benefited from human proximity has changed.
This is a new kind of silent world. We're making the best of our solitude.