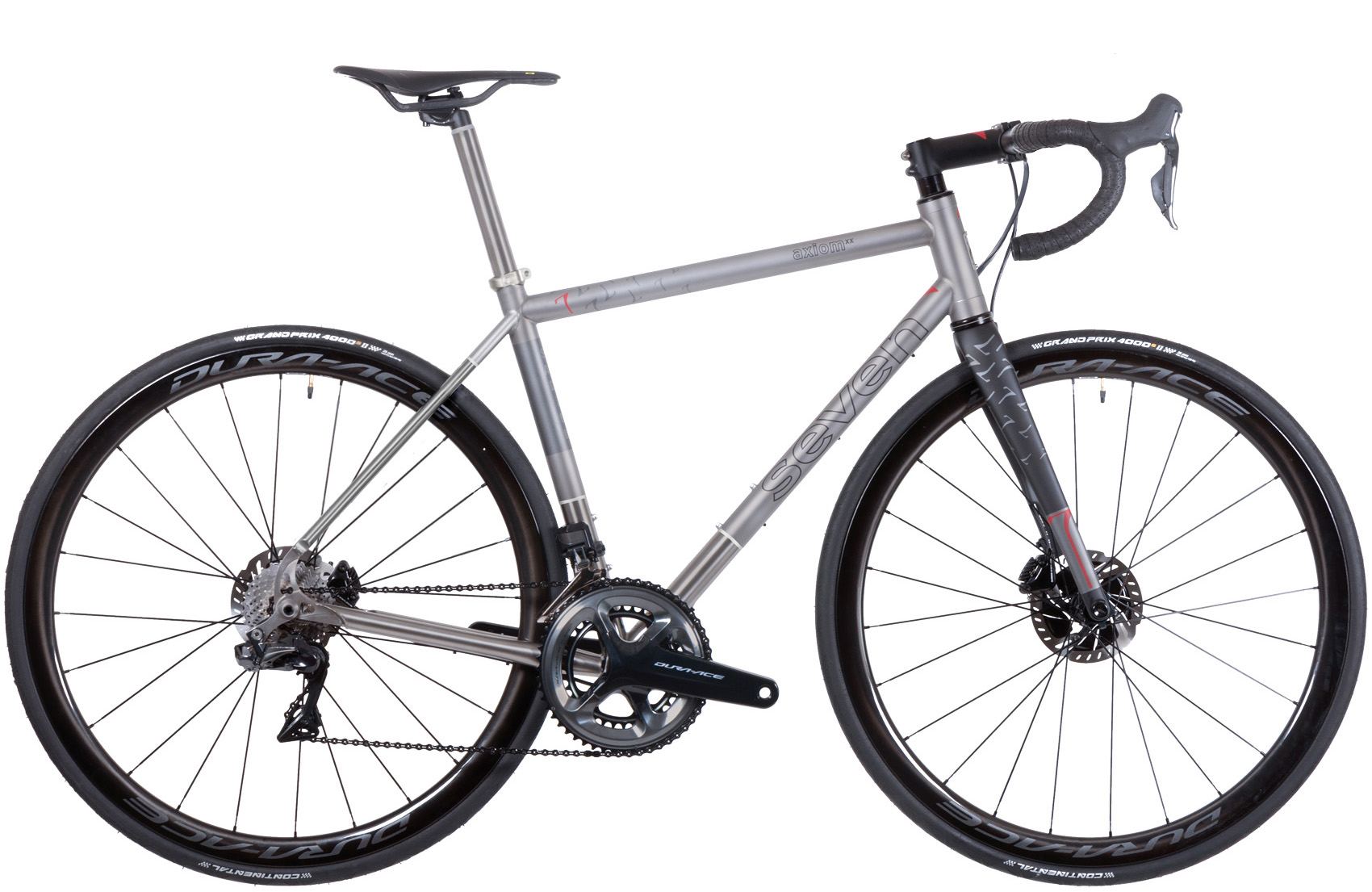 Basic Build Kit
Rim
Disc
Fork
Seven PureRoad or
Seven PureRoad Medium Reach
Enve Road Disc TA or
Seven Matador
Stem
Fizik Cyrano R5, 7-degree angle, aluminum
Bar
Fizik Cyrano R5, Bull, 75 mm reach, 125 mm drop, aluminum
Post
Fizik Aluminum R5 - 27.2 mm / 330 mm
Tires
Continental GP 5000
Headset
Cane Creek 40
Saddle
Fizik Antares R5 K:ium Grey/Black (regular)
Brakes
Gruppo matching or Tektro R539 Black 47-57 mm
TRP Spyre (cable) or group matching (hydro) 160 mm front, 140 mm rear rotors
The Story Behind This Bike
Seven has been at the forefront of titanium bike-building technology for more than two decades. We literally wrote the book on the characteristics and best practices for making bikes out of this special metal.
Through the years we have developed numerous different ways to refine the best titanium tubing to produce better and lighter bikes. We pioneered the idea of the rider-specific tubeset, where each tube in the bike is selected specifically based on the wants and needs of the person who will ride it. We went further by butting tubing in-house, again based on our riders' expressed preferences, and then we pushed still farther with ultra-butted tubesets that stretch the bounds of frame weight and compliance.
The Axiom XX is the culmination of all our work in this space, delivering the lightest, high-performance, rider-specific bike on the market. We pull out all the stops on this one, maximizing tube butting potential, getting hyper-focused on machining out all excess material, and incorporating unique features that simultaneously shed weight and maximize performance.
Why You Want It
We make the Axiom XX for riders who want the best titanium bike we can build. More than 30,000 builds worth of experience find their way into each frame. It is as light a frame as we can build, while still incorporating all the features you want and delivering the exact blend of stiffness and compliance you need.
We've done a clean sweep of every aspect of the frame to remove any hidden grams. The XX is four to eleven ounces lighter than a typical Seven SL build without sacrificing ride characteristics or service life.
This is really a technology driven build, featuring asymmetric dropouts and stays, an internal seatpost binder, a custom butted Ti seatpost, modified brake mount, advanced tube butting and internal machining techniques. There is a reason it was named Best Road Bike at the North American Handmade Bike Show in 2019.
Details
Average Frame Weight (lbs.): 2.6
Tubeset: Seven's Cirrus™ Ultra-Butted 3-2.5 Titanium
Features and Options
Optional Features: pump peg, chain hanger, fender mounts, third bottle mount, cable routing options, electronic shifting, 650b wheel, custom name decal
Optional Features with Upcharge: single speed version, Rohloff hub, carbon belt drive, custom color decals, custom paint
Sevens can be built with your choice of components. For details and price quotes, please contact your retailer.
Locate a Retailer
"The Seven climbs like a mountain goat, the pedalling feels smooth and effortless."
–Michael W., Australia