Customization
Every Seven is built to order and customized for frame size, geometry, tubing diameters and wall thickness, cable routing, rack and fender mounts, paint and decal color, and an array of other options. Each frame's tube set, which is as important as the frame's geometry to ride quality, is chosen specifically for the rider to get just the right combination of tube diameter and wall thickness to suit the rider's weight, riding style, intended use, age, and riding terrain.
Seven's Custom Kit order form captures your body measurements, current bike measurements and riding style, as well as identifying positives and negatives about your current bike, from handling characteristics to any back or neck pain you might experience. This information forms the basis for a one-on-one interview with one of our bike designers, so we can hear from you, in your own words, what you want from your custom Seven.
At the core of our approach to frame design is what we call the Five Elements of Customization™. Each element examines a critical piece of your new bike, and simplifies the conversation, so you don't have to be an expert to communicate exactly what you want.
Seven's Five Elements™
Element 1:
Fit and Comfort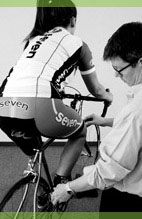 Here we're really concerned with the top half of the bike, with saddle and bar heights, and with overall reach. These basic touch points will determine how well the bike fits. Most people think this is all they get from a custom bike and wonder why they might want a bike built specifically for them. The bike they have now fits fine with a little bit of adjustment.
At Seven, fit and comfort are only the beginning. Every bike should fit perfectly, but there is a lot more that goes into a truly personalized bike than just fit and comfort.
Element 2:
Handling and Performance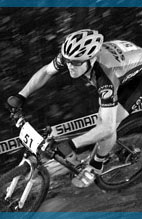 Here we're thinking about the bottom half of the bike, chainstay length, bottom bracket drop, front center and fork rake. These are the factors that determine a bike's stability and agility. By small variations, we can deliver very specific ride characteristics, giving each rider the confidence they need on their bike to perform to their ultimate potential whether they're racing or just rolling around the neighborhood.
Element 3:
Tubing and Materials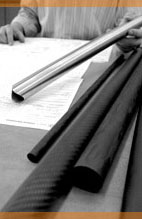 Many of the basic ride characteristics of a bike come from the materials used to build it. Titanium gives a similar liveliness in a stronger, lighter package. Carbon fiber is lighter still, and stiff. Each material has its place in bike design, and we like to choose the material that best suits the way the rider will use their bike.
Through advanced manufacturing techniques, we can also modify each of these frame materials to be even more rider-specific, either through tube-butting or by choosing diameters and wall thicknesses that speak not only to the rider's physical proportions, but to their desire for comfort and the riding surfaces they hope to explore on their new bike.
Element 4:
Features and Options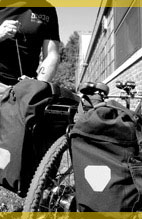 This is where a custom bike really shines next to an off-the-shelf bike. With a custom Seven, the rider can choose any combination of features and options they want, from paint and decal colors, to rack and fender mounts, top tube slope, component choices, brake types, and on and on and on.
Element 5:
the Future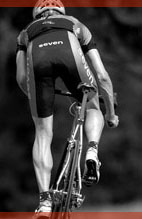 We know from experience that most riders buy the bike they want in the moment, that is, the bike they want to ride right now. We also know they will have their Seven for decades, so part of our design process considers both how their riding might change and how their body might change. Wherever we can, we design in flexibility, so that the bike can grow and change with the rider, allowing them a range of fits and a range of different types of cycling.