The ERSA Framebuilding Team
One of the most important elements of the ERSA, or any bike you're thinking about investing in, is who builds yours. Do they have extensive framebuilding experience? Do they understand what gravel riding is? Do they care as much as you do about cycling? Will your bike be durable and precisely as you requested?
With Seven, the answer to all of these questions is, yes. For The ERSA project we have two of our most experienced builders handcraft your frame. Between them they have nearly 30-years of framebuilding experience.
While working on your frame John and Stef work on nothing else. This singular focus creates a better frame with more precise details.
Framebuilder: John Tomai
John is a framebuilder's framebuilder.
John has worked in the bike industry for more than a decade, and he's been a framebuilder with Seven Cycles for over five years. In that time, he's built more than 1,000 custom frames of every design imaginable. And he's thought deeply about each one of them.
The ERSA bike project is a good fit for John because he has been riding dirt and gravel for years. Even more important, John is thoughtful about each element of the framebuilding process. Questioning everything and always looking to make improvements. You want John thinking about and working on your frame.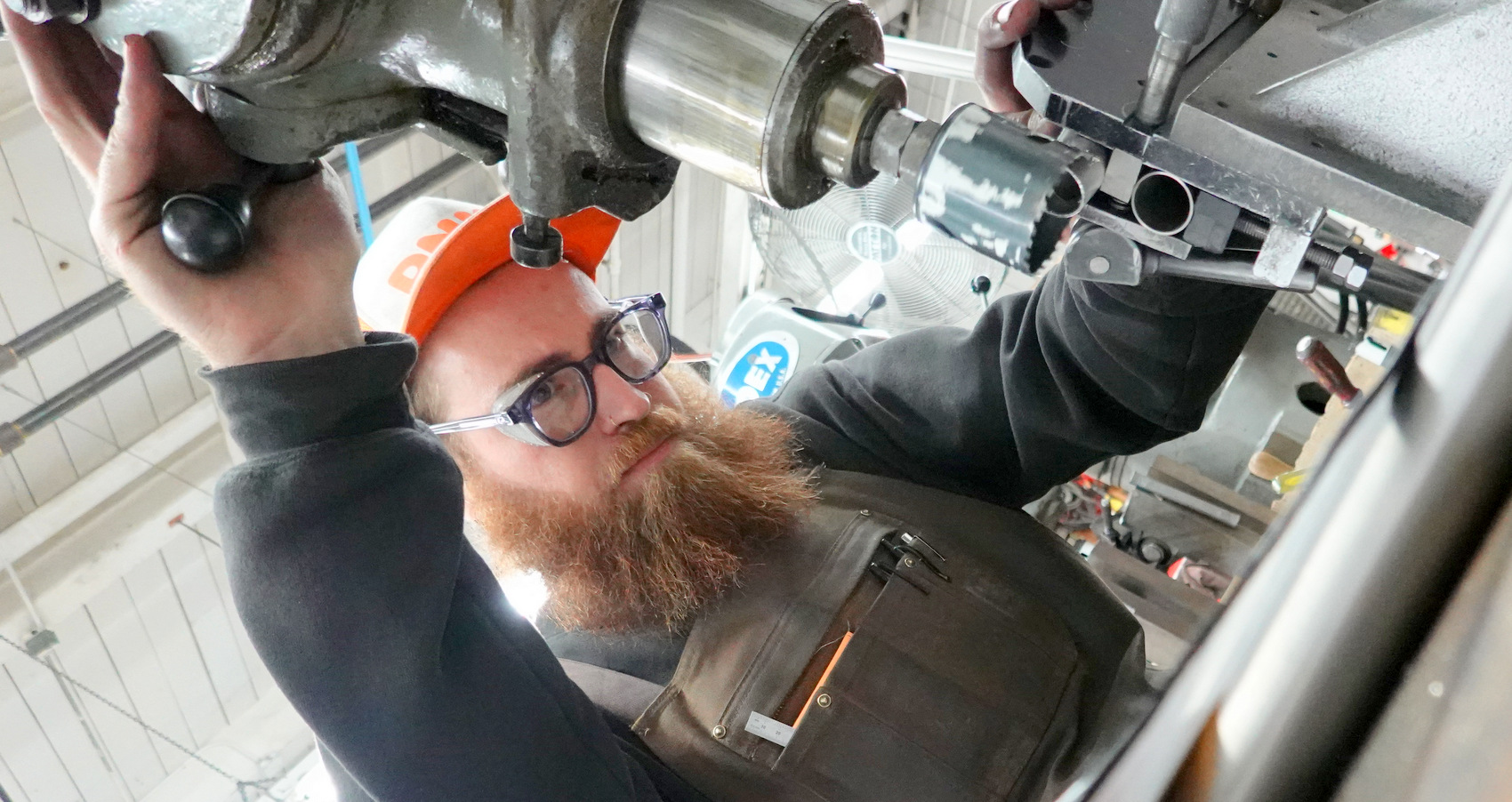 Welder: Stef Adams
You will not find a better frame in the world than one that Stef has welded.
Stef has been welding titanium frames for 20 years. This is more experience and certainly more frames welded than just about any welder ever. She's lost count, but it's many thousands of frames. Throughout her time welding, she's continually refined her craft. A correct weld is a lot more than just a clean and even bead. Frame alignment and durability are essential, too. These invisible elements are only achievable through experience and focused practice. By that measure, you will not find a straighter, stronger, more beautiful frame anywhere by anyone.
Not only is Stef one of the most experienced titanium welders on the planet, she has designed many frames during her tenure at Seven. She's worked with individual customers from the ground up to co-design some of the most smile-producing bikes on road and dirt.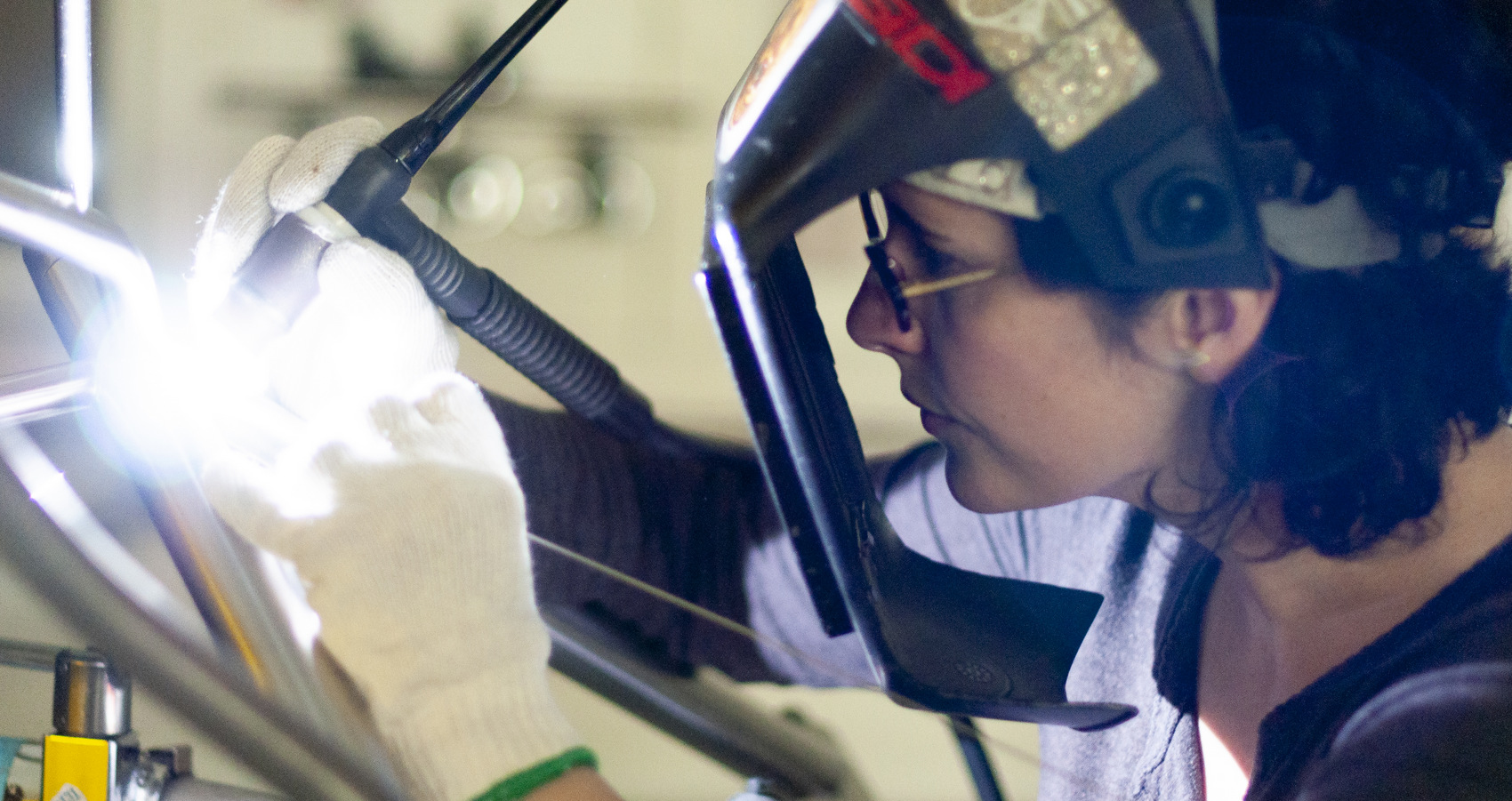 Teamwork
Every bike project at Seven requires a team of people, including design, geometry, tubeset specifications, materials sourcing, inspection, bike assembly, shipping and receiving, back office work, and R&D. Every bike we build gets touched literally and figuratively by every person in the company. Every single employee is essential to the process of delivering your dream bike.
---
Titanium as a framebuilding material at Seven
Durable, light, and smooth with extremely tunable ride characteristics.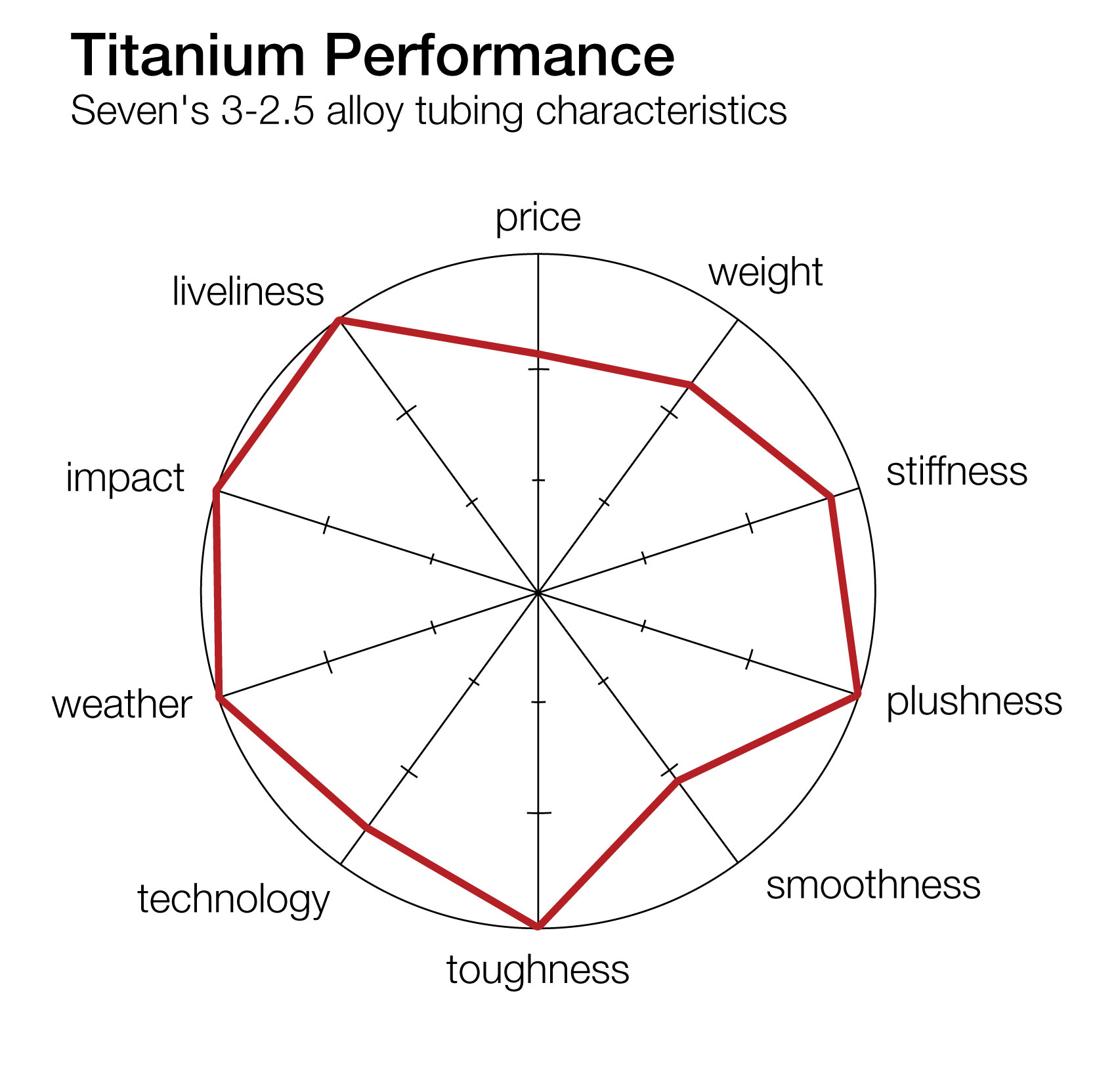 A well designed titanium gravel bike is about as good as it gets. The primary benefits of the 3-2.5 titanium alloy that Seven builds with include:
Super tough and strong
Smooth ride
Excellent wheel traction and surefootedness
The most tunable ride characteristics – from super stiff to super plush
Impervious to weather conditions
For more details and nuance about titanium's attributes continue reading.
Seven's Engineering Experience
Seven's founding engineering team has overseen the fabrication of over 60,000 titanium frames. More than 30-years of titanium framebuilding experience helps Seven delivery the most finely tuned highest quality titanium frames available. Our founding engineer has more years of continuous titanium framebuilding experience than anyone else on the planet. This knowledge and heritage go into every frame we craft.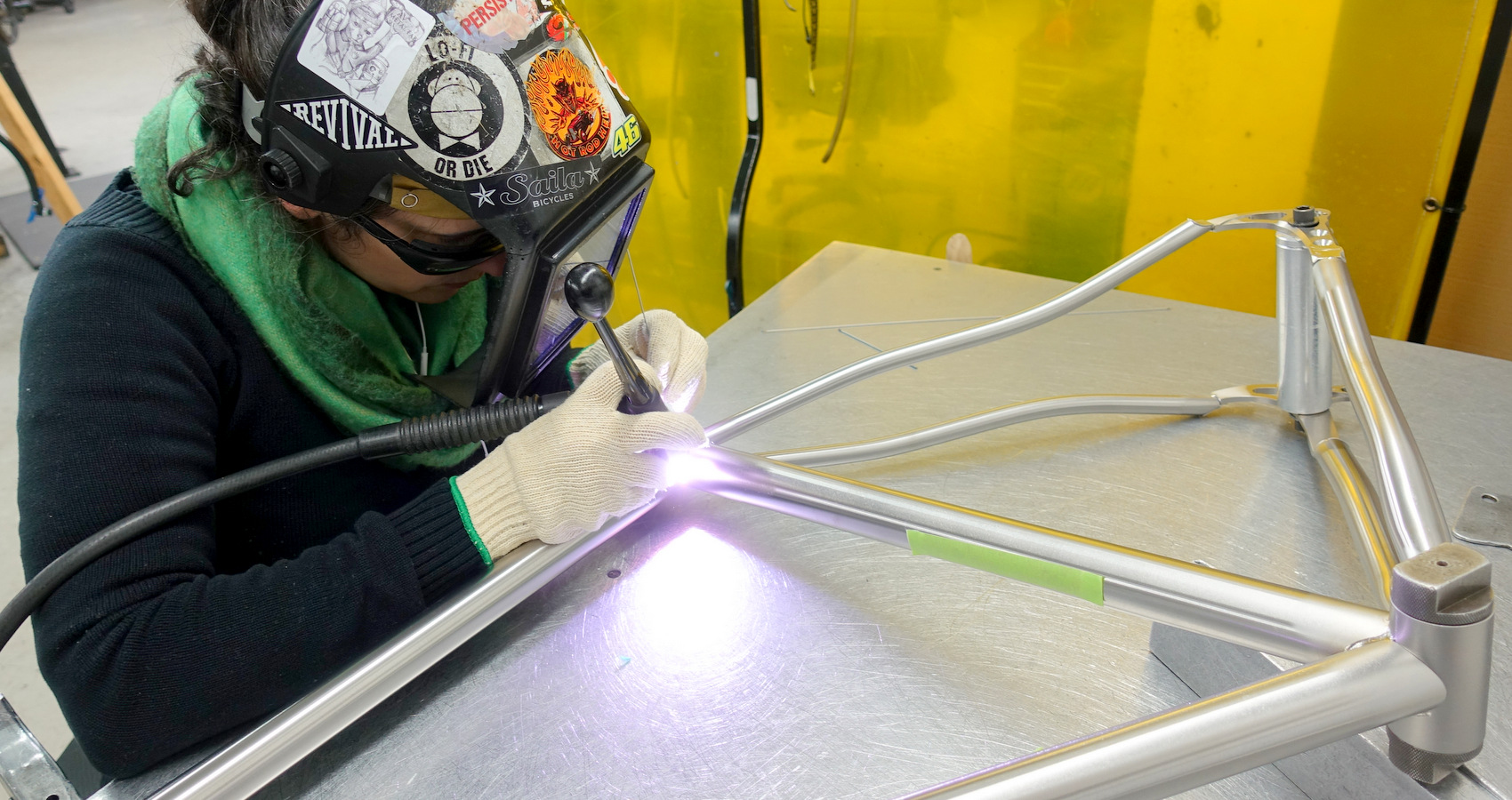 Seven's Unique Approach with Titanium
Seven's method of titanium framebuilding is extremely personalized and very engineered. There is not a single piece of the frame that Seven's designers and engineers don't modify or work to improve. This is true not only with the tubeset but also with the other parts of the frame. We design every single element in-house including the dropouts, bottom bracket, and head tube. Having complete control over every piece of the design results in a better performing bike every time. In-house designs also ensure a more durable lighter bike.
Titanium's Defining Characteristics
Here are some of the universal defining characteristics of Seven's titanium gravel frame designs:
Excels at long rides. The longer the ride the more titanium shines. The material's shock absorption characteristics protect your body so you'll have more energy and feel better at the end of the ride.
Good vibration damping characteristics. Chip seal pavement is a good example of high frequency vibration. When properly designed a titanium frame can virtually eliminate this type of vibration.
Toughness: It can handle rough treatment. If you're tough on equipment titanium is the right material.
Excellent shock absorption. The rougher the pavement the more benefit you get from titanium.
Longevity: No frame material will last longer than a properly built titanium frame. Titanium's fatigue life is longest of all bike materials. If you want a lifetime bike it has to start with titanium.
Light weight. Second only to carbon fiber, titanium offers the best balance of all characteristics riders usually want in a bike frame. Certainly the best strength-to-weight ratio of any material formed into frame tubes.
Impervious to environmental conditions, snow, rain, road salt, and sea air.
Tunable ride characteristics. Seven can control the drivetrain stiffness and vertical compliance independent of each other because of the way we can manipulate the tubeset.
Makes the best travel bike because it's tough and doesn't require paint.
The folklore of titanium's "flexiness"
Titanium is a misunderstood material, if it's understood at all. It's most commonly misperceived that titanium frames are flexible. There have been plenty of flexible titanium frames made – especially in the early days of titanium. However, because the material is so tunable and controllable we can actually make a titanium frame extremely stiff if the rider desires that. We've built plenty of track bikes and bikes for riders over 300 lbs. If you want stiff, titanium may be the ideal material with which to build your frame.
Just because titanium excels at providing a shock absorbing ride doesn't mean it has to be plush. If you want your teeth to rattle we can deliver.
Seven's Proprietary "SL" Tubeset
Do It All, Up For Anything, Balanced Characteristics
Our most popular tubeset design, the SL provides a compelling balance of light weight, durability, and performance. We do this through butting the tubeset. More precisely, double-butting. The butting process makes the tubes stronger at the welds and lighter everywhere else. The SL tubeset has other unique features, including our exclusive dropout design, our machined in-house head tubes, and more.
And, as always, every frame we build is to whatever level of stiffness and plushness you want.
Seven has been building butted framed bikes for more than 20-years. In fact, Seven's founding engineer invented the first process for butting tiitanium tube more than three decades ago. Since then, he's invented a number of other titanium butting methods, too. And every year we find ways to refine and improve the SL tubeset design, dropouts, and all the small parts.
Here are a few of the benefits of Seven's SL double-butted tubeset technology:
Climbing: Because of the SL's design, the bike has better traction than any other material so you'll climb faster. We can also tune the tubeset for optimal drivetrain stiffness.
Descending: Titanium's shock absorbtion provides improved traction and tracking control which enables you to descend faster and with more confidence than with any other material.
Seven's SL tubeset can be a smoother, more comfortable, shock-absorbing ride than almost any other bike available because we tune the tubeset so specifically. Of course, if you prefer a super stiff frame, we can do that too.
Super tough for harsh conditions. This titanium SL design won't let you down.
Extremely tailored: Our tube butting process is performed one tube at a time for each individual rider. Your bike will ride better for whatever your focus.
Rider Weight Range: For Seven's SL butted titanium tubeset there is no rider weight limit.
Frame Model Details
Defining "Evergreen"
Seven's Evergreen is our gravel and mixed-terrain bike. In essence, it's a bike that has room for at least 40 mm tires, comes with disc brakes, and provides frame geometry and tubeset design that's appropriate for varied terrain and conditions. The Evergreen is a versatile bike that can be road-fast with the right wheels, and expedition ready with bigger tires and more aggressive tread.
Defining "ERSA"
"ERSA" stands for Endurance / Race / Smooth / Airy
The ERSA design is optimized for both endurance gravel adventure racing and dirt road racing. The frame design is fast, stiff, and efficient. ERSA also means this is a double wheel design optimized for 700c and 650b wheels. ERSA also includes our most current technology and upgrades.
ERSA literally means:
E for Endurance: Designed to be ridden hard, all day long. Titanium helps a lot here. Our SL tubeset butting makes it even better. The frame geometry and fork Matador fork choice make the bike stable and easy to handle on long rides.
R for Race: Riding fast. So fast that sometimes you're over your head, so the bike needs to handle confidently and predictably. You want every watt of energy you put into the bike to be turned into forward motion. We accomplish the handling through frame geometry and tubeset design. We get all your watts to the drivetrain by clever titanium application and tube butting.
S for Smooth: The titanium's shock absorption enables you to descend faster and with more control than with any other material. That absorption also protects your body so you can use yourself for forward momentum rather than constantly bracing for micro-impacts and larger ones.
A for Airy: Very light. The ERSA Evergreen SL is one of the lightest gravel bikes available. Light means you can climb and accelerate more quickly. The titanium frame ensures that the bike is sturdy in spite of being light.
Frame Upgrade Details
Double wheel design: 700c and 650b
Your bike can be perfectly tailored to nearly any ride that includes dirt. The ERSA is optimized for:
700c x 36 mm. The ERSA fits up to 45 mm knobbies.
650b x 47 mm. The ERSA fits up to 54 mm knobbies or 2.1" mountain bike tires.
Dropped chainstay
The dropped chainstay design allows us to provide significant tire clearance for up to 650b x 54 mm tires while maintaining short chainstays to ensure agile race-ready handling.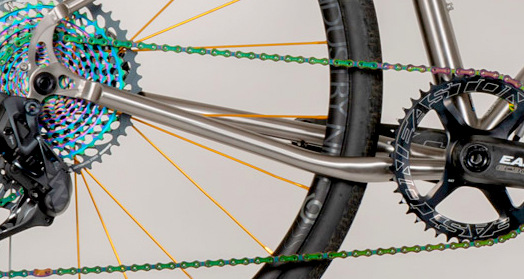 The drive side stay is dropped, and the non-drive side stay is inline, so the pair of stays is asymmetric.
Upcharge: $295 included in the bike price.
Asymmetric chainstays & dropouts
Making the drivetrain system asymmetric and purpose-specific allows us to make a substantially lighter drivetrain while increasing stiffness, tire clearance, chainring options, and a shorter chainstay length. All good things.
Upcharge: $195 included in the bike price.
Moto seat stays
Our Moto seat stays allow for more aggressive cornering, more sure-footed switchback descents, and better terrain feel in the worst conditions. This seat stay design is an upgrade from our standard, dual-bend inline seat stays.
With these stays, we've been able to improve rear tire traction without reducing frame stiffness. We achieve these traction improvements through a combination of a more aggressive bend profile and bending in multiple 3-dimensional planes. What you get is a seat stay with a more dramatic shape that dissipates multi-directional force while minimizing weight.
Upcharge: $95 included in the bike price.
T47 bottom bracket
T47 is an emergent standard that provides a larger stiffer shell for the most contemporary oversized crankset spindles and most durable bearing systems. T47 helps futureproof your drivetrain system options.
Upcharge: $95 included in the bike price.
Fender mounts
Unobtrusive fender mounts on both bridges and the dropouts make sure you're ready for any weather. The fork has integrated fender mounts, too.
---
Fork Details
We designed the Matador carbon fork from the ground up. Seven's 765 Endurance version of the Matador fork includes some essential features for endurance gravel riding:
700c and 650b wheels: The number "765" stands for the two wheel sizes we've designed the fork for. This is not a trivial feat, but our latest generation Matador works with both wheels and an array of tire sizes. The fork fits up to 650b x 54 mm tires — or 2.1" — and up to 45 mm x 700c tires.
Smooth: Carbon forks are often overly stiff. This is fine for shorter rides, but for 100-mile mixed-terrain events, a smoother riding for will provide several advantages: you'll feel better and less beat up at the finish. Your bike will handle better and have better traction on rough terrain.
Stable & predictable: No disc brake fork has more rake than the Matador. This long-rake design provides more predictable steering at changing speeds. The design also affords more front center for less toe overlap.
Flat mount brake mount: The Matador has a native flat-mount, so it's future-proofed, lighter, and simpler than a lot of available forks.
Integrated fender mounts
You can find more specifications about Seven's Matador forks.
Price Notes, Ordering, & Shipping
Questions? Contact us. We're here to help.
We offer financing through PayPal, PayPal Credit, and PayPal Financing
The prices shown above include everything indicated in the offer except where upcharges are explained in the text.
For this specific offer, the bike price also includes:
Free shipping anywhere in the continental United States.
Shipping insurance to cover lost, stolen, or damage during shipping.
Primary assembly. The bike will be about 95% ready to ride. Tools not included.
Some Fine Print
Contact us with questions. We're here to help.
Parts kits do not include anything that's not included in the words on this page. Bike photos are not representative of the exact bike and buildout that you may receive. Water bottle cage, fenders, racks, etc. are not included unless stated in the text.
Each component and price is subject to change based on ongoing improvements and parts availability.